It takes

1/10

of a second for someone to form an initial impression of you.
Before that second has passed, they've also decided how

trustworthy

you are.
VidExpo Go

Is The 2020 Face-To-Face Sales Initiative
Order VidExpo Go Today
Keep your brand in focus with the VidExpo back drop. Lightweight, portable and customizable.
Easy to Setup
Presentation ready in less than 5 minutes. Easily store out of sight when not in use.
Changable Image
Change the color to match your brand or vision, add your logo, choose the perfect style and more.
Look "Show Ready" with our VidExpo Halo ring light.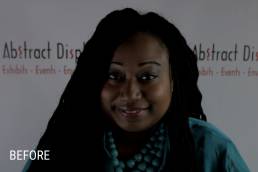 Let your message be heard AND understood with VidExpo Boom. Your laptop's built-in microphone can distort your words and pick up too much background noise. Keep your audience focused on your voice and not the sound of the neighbor's dog!
Plug and Play, Mac and PC Compatible
Works with streaming platforms: GotoMeetings, Zoom, WebEx, Skype and more..
Audio
Let your brand passion be heard.
You should be making eye contact 60% to 70% of the time to create a sense of emotional connection.
Lift your head and look your audience in the eye with VidExpo Lift.
Tell Us About Your Project
---